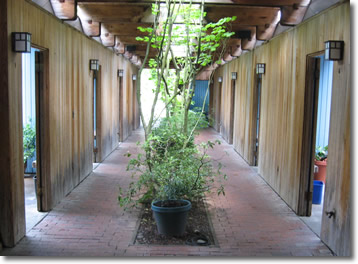 ONSEN invites you to enjoy our private outdoor hot tubs in quiet, natural surroundings. For an hour you and family or friends will find a haven of peace and relaxation in the privacy of your own hot tub. Each of the 13 rooms has a covered dressing area, shower, & spa complete with Hot Spring® Moto-Massage® hydrojets. The rooms are open to the sky, allowing you to stargaze on a clear night. Newly added spray misters over each spa refresh and cool you in the summer. Create your own Oregon rain while you soak. Whether it's washing away the worries of the day or providing relief to sore muscles, ONSEN wants you to feel good.
ONSEN has the best water filtering and treatment equipment available. We have over 35 years experience providing clean, healthful water in public hot tub rentals, and our water quality exceeds Lane County health standards at all times. ONSEN is also handicapped accessible.
Onsen Hot Tub & Sauna Rentals
is NOW OPEN for Business

Business Hours
Monday - Thursday Open at 12:00 PM
Taking last reservation at 10:45 PM

Friday and Saturday Open at 12:00 PM
Taking last reservation at 11:15 PM

Sunday Open at 12:00 PM
Taking last reservation at 10:45 PM


We encourage customers to bring their own towels & beverages.

Call or book online for reservations. Please contact us with any questions.
Coupon, Gift Certificate and full Soak Point Card rentals are not valid for online reservation booking and must be booked over the phone.


1883 Garden Avenue, Eugene, Oregon

For your convenience, please call for reservations.


(541) 345-9048 Ext. 1

Must have a minimum of 2 people
to soak as required by Oregon State law.

Phone reservations are taken no more than 24 hours in advance.
Pre-paid reservations are nonrefundable.



Open Daily




Rates

Effective October 12, 2021

Two People.......................................... $30 per hour
Each additional person.......................... $5 per hour
Children under 12.................................. $3 per hour
Sauna & Hot Tub Rental........................$55 per hour

Ask about our

AQUA SOAK POINTS

Buy 10 Soaks & Get a Free Soak

---

Also Available:

Towel Rentals & Cold Drinks
$1.00 each
Coconut Water
$2.00 each



---

Gift Certificates

Available for Special Occasions & Gifts


$30

Valid anytime of day / no expiration


---



Military discount $3 off only with valid ID*